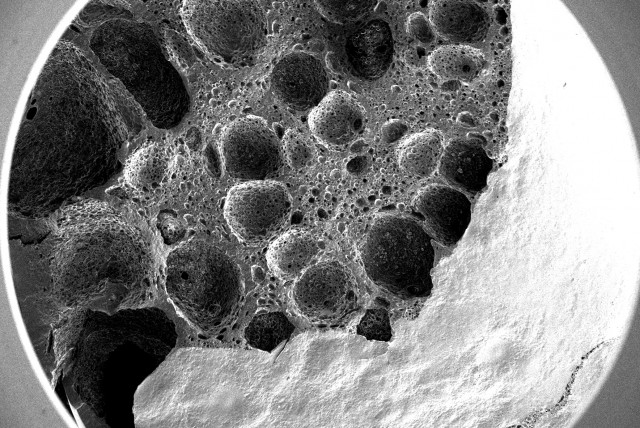 Yin Yang Luna
Artist:
Marcela Areyano (Graduate Student)
Department:
Mechanical Engineering
Description
Resembling craters on the moon, as well as the Yin Yang symbol this image is a side view of porous PDMS that is adhered on a non-porous layer. As Yin and Yang the individual qualities of the composite are interdependent; connected sharing the same starting material yet posses opposing properties.
This is a SEM image of a porous PDMS(elastomer) that has polymerized on to non-porous PDMS. It is a synthetic mimic of what is observed in the Mytilus Californianus mussel.  In their case it is observed that collagen penetrates a "porous" layers, creating composites. These samples were made in efforts to mimic these properties. We aim to understand how porosity affects the plaque's mechanical properties.