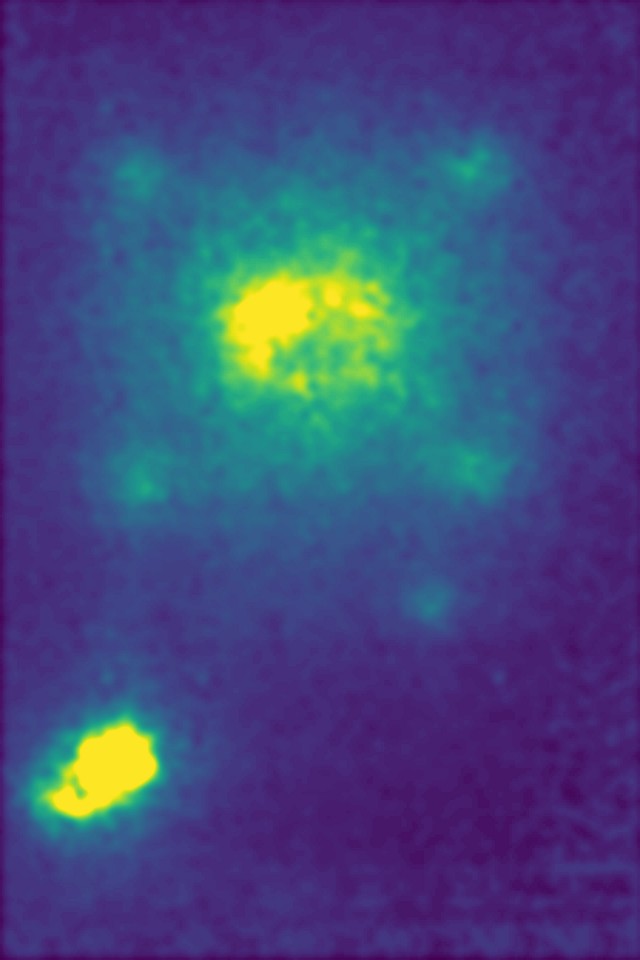 The Trapezium Star Cluster as imaged by the MKID Exoplanet Camera
Artist:
Isabel Lipartito (Graduate Student), Rupert Dodkins (Post Doc), Ben Mazin (PI)
Description
The Mazin Lab presents a false-color infrared image of the Trapezium Cluster, an open star cluster located in the Orion Nebula.  The image has been colorized because human eyes cannot see infrared light.  The more yellow in color a part of an image appears, the brighter it is in infrared light.
This is the first astronomical image made by the Mazin Lab's MKID Exoplanet Camera (MEC), a superconducting camera operating at the Subaru telescope on the summit of Mauna Kea.  MEC is a photon-counting camera, it can measure with precision the time of arrival and wavelength of every single infrared photon that arrives at it.  The bright blob in the lower left of the image is a binary star system, the two stars are too close to be resolved by the telescope.  The central bright blob is an image of the brightest star in the cluster, it was blocked out with a device known as a coronagraph.  Four artificial satellite 'stars' appear in a grid around the central star, these are important for instrument calibration.  Below the central bright star is another dim star in the cluster.