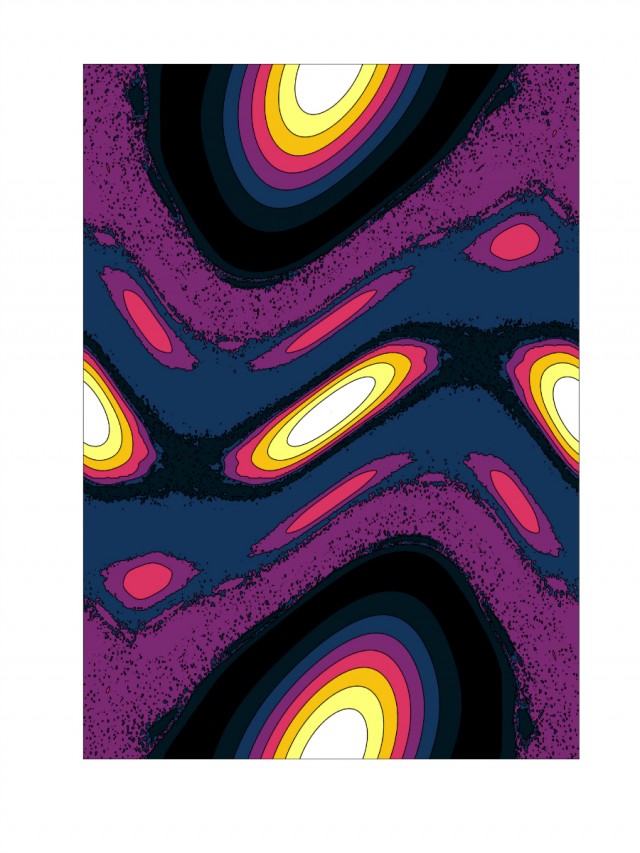 Stable Islands in a Sea of Chaos
Artist:
Michael Georgescu (Graduate Student)
Lab:
Igor Mezic's Research Group
Description
Illustrated are invariant sets of a Poincare map obtained by taking time-averages along trajectories of the Chirikov Standard Map (for K = 0.17). The Poincare map illustrates the possible configurations of position (x-axis) and momentum (y-axis) of a kicked rotator which is a mechanical system describing a horizontally acting pendulum that is periodically forced. At certain magnitudes of forcing, proportional to K, the system exhibits chaotic dynamics in regions of the Poincare map. The cross section of the Poincare map (shown in figure) illustrates regions of periodic and quasi-periodic islands (closed curves & bead-like sets of closed curves) which are densely embedded in a region of chaos. The standard map is studied because it is an example of a simple mechanical system which can undergo chaotic dynamics if periodically forced at certain magnitudes.