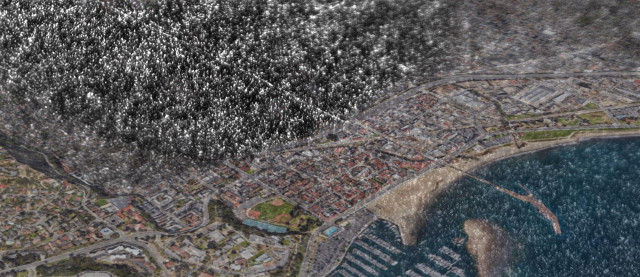 Not just Skimming the Surface
Artist:
Kaylyn Leung (Post-Doc) , Martin Kurnick (Post-Doc)
Department:
Chemistry & Biochemistry
Description
Gold appears flat and shiny to the eye, but under a microscope it has features so fine it resembles the streets of Santa Barbara. Scientists use microscopy to study surfaces and improve technologies. Like our city, gold is beautiful from afar, but up close we appreciate its beauty even more.
This image was obtained with the help of Dr. Ben Lopez in the Neuroscience Research Institute and the Department of Molecular, Cellular and Developmental Biology (NRI-MCDB) MICROSCOPY FACILITY at the University of California Santa Barbara using an inverted epi-fluorescence Olympus microscope. The gold surface was covered with deoxyribose nucleic acid (DNA) molecules modified to react with the surface and a fluorescent label. Images were obtained using a 10x objective. On that scale, the approximate width of this image is 1 mm wide.