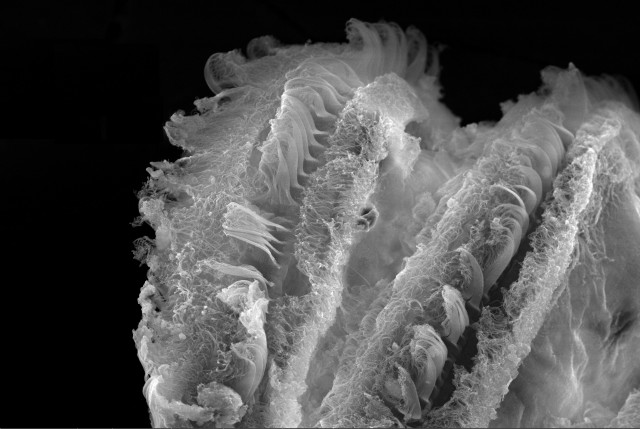 Multitasking: Sort, Shuffle, Breathe and Host
Artist:
Cristiana Antonino (Undergraduate Student)
Department:
Ecology, Evolution, and Marine Biology
Description
Like many marine clams, Thyasira flexuosa use their gills as factory powerhouses for filtering food particles out of the water. Their cilia, depicted here, act as rows of conveyor belts that catch and shuffle particulates across their gills towards their mouths. Although this suspension feeding mechanism is crucial, T. flexuosa has another, more unconventional, source of nutrition: chemoautotrophic bacteria just beneath the ciliated surface, housed in highly specialized structures termed "bacteriocytes."  The nature of these symbiotic associations leads not only to modifications in anatomy, but in behavior. These odd little clams actively "mine" sulfide for their mutualistic companions by creating very complex three-dimensional tunnels in the sediment.   My research uses electron microscopy to explore the ultrastructural modifications to their gills and to measure how bacterial density varies within gill filaments as a function of sediment chemistry at sewage outfall sites in Southern California.