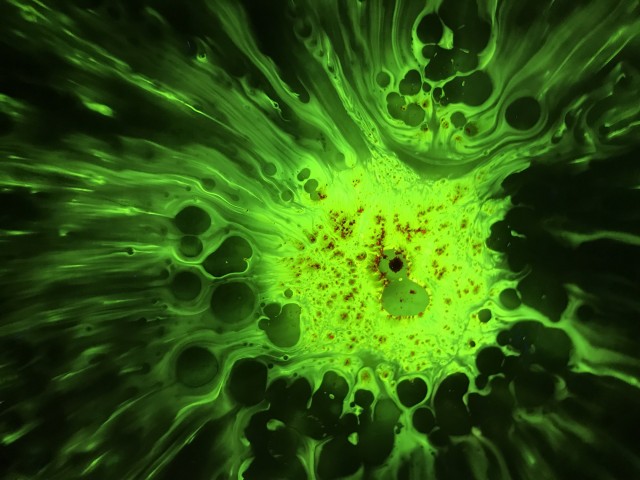 Marangoni Flow
Ranking:
Honorable Mention
Artist:
Hyunjin Kim (Graduate Student), Mike Garcia
Department:
Mechanical Engineering
Description
Marangoni Flow Oil and water do not mix, and in this image oil spreads across the surface of water. The uneven distribution of surface tension in the spreading oil drop causes the instability seen in the vivid streaks in the contrasting colors. Marangoni comes from an Italian physicist who studied surface flow in the 1800's, but this image looks like it belongs in the world of Science Fiction.
ZOOMING IN The image was taken seconds after a drop of surfactant rich sunflower oil was place on the surface of a pool of glycerol. In the oil drop we suspend a fluorescent dye which is excited with UV light to allow for direct visualization of the spreading drop. The image was captured from above using a macro lens and the color has not been altered in any way.