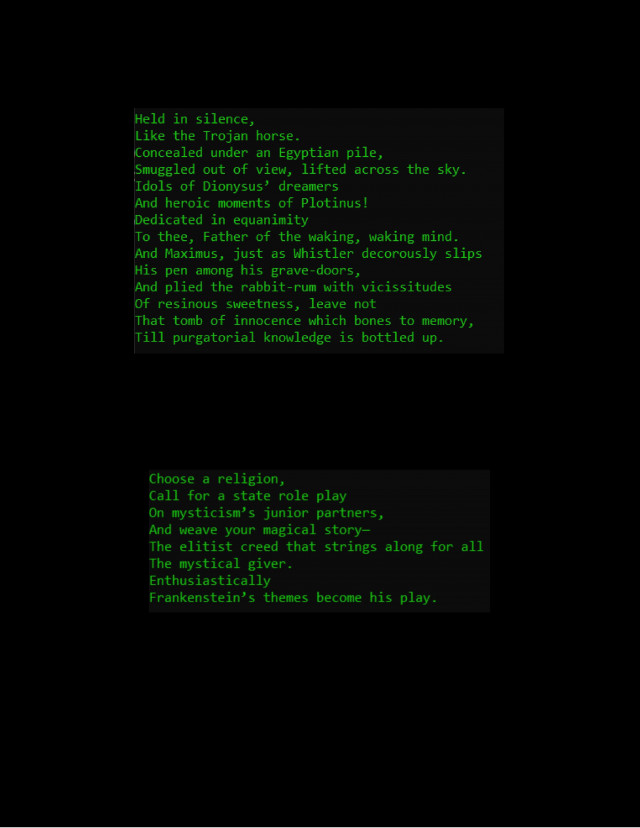 Make your own Bible
Artist:
Misha Obukhov (Undergraduate Student)
Department:
Computer Science
Lab:
Independent Research
Description
We use state of the art NLP architecture (GPT-2 2019) inspired by the landmark OpenAI paper, "Language Models are Unsupervised Multitask Learners" to generate poetry and dialogue.
Our Deep Learning model is trained on the work of prominent modernity poets and the favorites of some personal friends.
The model is trained by a corpus of work by the following poets:
Ezra Pound, T. S. Eliot, William Carlos Williams, William Butler Yeats, Wallace Stevens, Charles Olson, Mina Loy, E. E. Cummings, Gertrude Stein, Marianne Moore, Hart Crane, Basil Bunting, Henry David Thoreau, Charles Bukowski, William Butler Yeats, Edgar Allan Poe, Robert Frost, Emily Dickinson, John Keats, Ralph Waldo Emerson, Ilya Kaminsky, Mary Oliver, Walt Whitman, William Wordsworth, and Sylvia Plath.
The model was constructed based on the GTP-2 architecture as outlined by OpenAI and trained over a timespan of 6 hours.
https://docs.google.com/document/d/11ZHn1Ypa8wX9PILxdVi0wDrS_ATT4YPKzh_V0C-VhcE/edit?usp=sharing