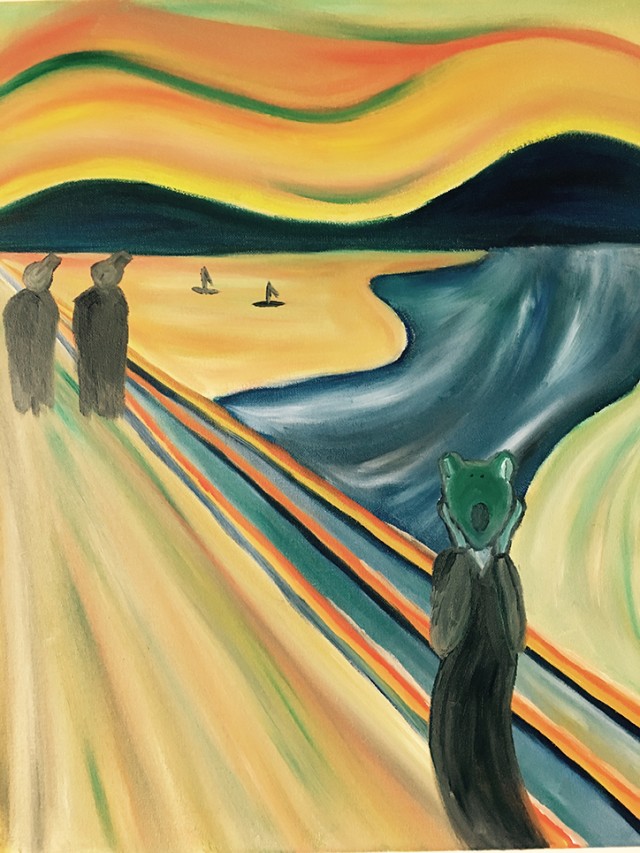 Edvard Munch's Scream
Artist:
Graziella DiRenzo (Postdoc)
Department:
Ecology, Evolution, and Marine Biology
Description
Walking along a path, the city on one side, the fjord below. The frog feels tired and ill. They stop— the sun setting, and the clouds turning blood red. Suddenly, they realize that the figures walking ahead are zoosporangia of the chytrid fungus— known as the amphibian-killing fungus.
Chytrid has caused the mass mortality of amphibians worldwide. Approximately one-third of all amphibians are threatened, representing 1,856 species of the >7,000 known species. Some say this pathogen is associated with a spectacular loss of biodiversity, one of the worst in recorded history. The frog senses a scream passing through nature and their body. The clouds as actual blood, spilling into the fjord. The colors shriek of death. This becoming The Scream of the Frog.
The painting is produced using oil paints and canvas. The mixing and layers of oil paint produce the rich, vibrant colors, producing a bleeding feel from the sky, into the clouds and fjord.