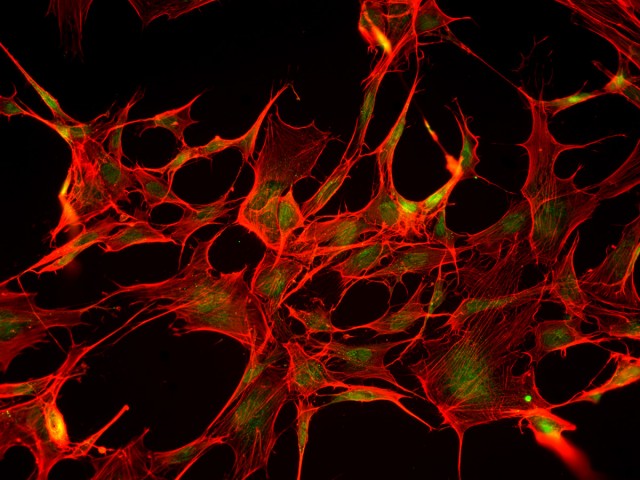 Cells Aflame: Proteins in the Spotlight
Artist:
Leah Foltz (Graduate Student)
Description
In cell biology, it is useful to locate proteins within cells. Using a fluorescence technique, I imaged a nuclear protein, shown in green. This protein is involved in a blinding disease known as retinitis pigmentosa. We hope to one day provide cellular therapy to patients with blinding diseases.
Using a control cell line, I optimized an immunocytochemistry antibody for a nuclear protein involved in the pathogenesis of the disease retinitis pigmentosa. The protein is involved in RNA processing, and its ability to bind to the RNA splicesome is of interest in the disease. Thus, optimizing an antibody to localize the protein within a diseased cell would provide vital information. We will be using this antibody to examine the protein in stem cells derived from patient fibroblasts as well as retinal cells differentiated from the stem cells.