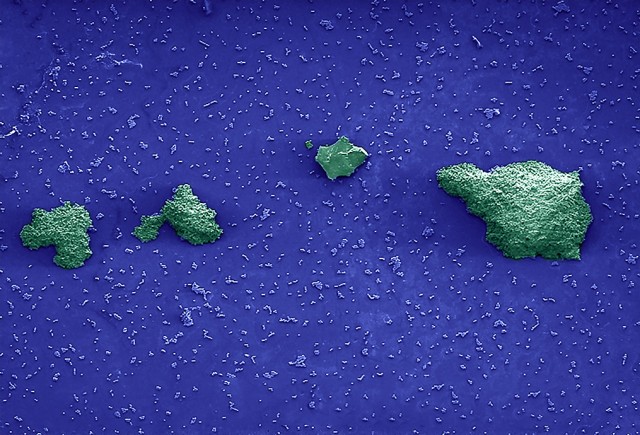 µChannel Islands
Artist:
Tyler Ray (Postdoc)
Department:
Materials Department
Description
Scale is a funny thing. As mysterious as their namesake, the true topology of these islands is masked by distance. Upon approach, the observer, rather than greeted with visions of coastal sea-caves and verdant fields, sees ordered assemblies of microspheres bound by bridges of gold nanorods.
Scanning electron micrograph of polystyrene microparticle / gold nanorod colloidal solids. Each microparticle is 2 µm in diameter. Assembles created via a new process for the digital assembly / digital deposition of colloidal solids via acoustic forces. SEM obtained on FEI Thermal Field Emission SEM Sirion with EDAX Falcon (UCSB Nanofab) at 350X magnification and 5kV acceleration voltage. False color added via Adobe Photoshop.